Week 4 is (almost) in the books. Here's what we took away from it …
This was a big weekend for saving seasons. And the Broncos' first one under Sean Payton was certainly on the brink at halftime of Denver's early-window game in Chicago.
The score was 21–7 Bears at that point—eventually it got to 28–7 late in the third—and the on-field product was somehow even worse.
For the second straight week, Denver had yielded a near-perfectly-quarterbacked first half: Last week, Tua Tagovailoa was 16-of-16 for 206 yards and two touchdowns against the Broncos; this week, it was Justin Fields going 16-of-17 for 231 yards and three scores (the incompletion was a half-ending Hail Mary). The Bears had twice as many yards and first downs at the half, and didn't let Russell Wilson and the Broncos cross midfield in the second quarter as they ran off 21 straight points.
Which, really, is when Denver's players decided enough was enough.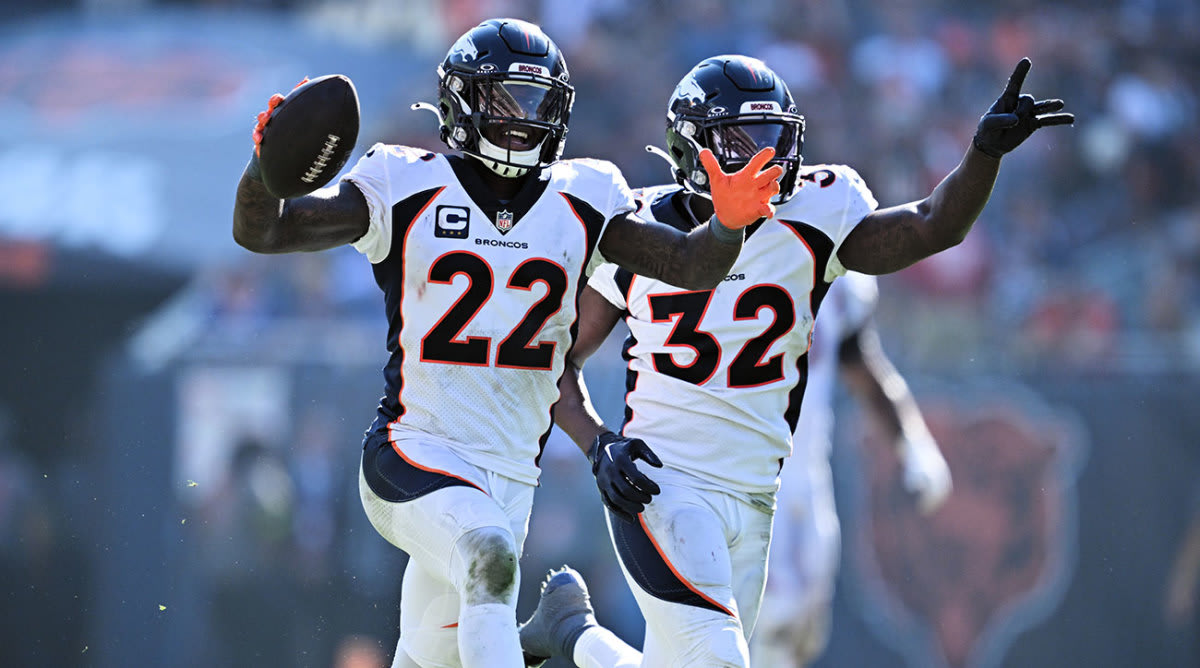 "Definitely, something needed to change, and that's where I feel like our leaders like Justin Simmons and Kareem Jackson really stepped up and got this thing going," third-year edge rusher Jonathon Cooper said, over the cell, postgame. "I said something to my unit personally, just to say, Hey, control what we can. We have to affect this game however we can. We gotta just step up. Like, we can't worry about too much. Worry about our realm."
And after Cooper did that, Simmons addressed the larger group, a group that had been humiliated enough in allowing 91 points over its previous six quarters.
"He said a lot more," Cooper continues. "He said a whole lot more than that, man. But I felt like it was definitely [the] fire and [the] spark that we needed to come out in the second half and just come with a different energy and a different style. Like a different swagger when we step on the field. And we'd be the best we can be."
Specifics?
"There was cussing involved," Cooper says, laughing.
And now, maybe the Bleeping Broncos are back.
Russell Wilson—who's actually been mostly fine through Denver's rocky start—led touchdown drives of 65 and 70 yards in the second half, and then a third scoring drive that set up Wil Lutz's 51-yard game-winner. Lutz deserves plenty of credit, too, for sealing the 31–28 win from that far out.
But as much as anyone, the guys on Vance Joseph's (fairly) maligned defense deserve credit for digging out a path to 1–3. They got four consecutive stops to finish the game—the final three of which came on a fumble, a fourth-and-1 stop and a pick, including one defensive touchdown.
On that one, with Denver down 28–21, Nik Bonitto came free off the left edge. Closing in on Fields, the linebacker left his feet to jar the ball loose from the QB. Cooper collected it at the 35, and had nothing but open grass in front of him to lead him to his first touchdown since high school. That tied the score and set the stage for the fourth-and-1 stop, and then a 48-yard bomb from Wilson to Marvin Mims to put Lutz in position to be the hero.
"It was a normal base call," Cooper says of his touchdown. "Nik made a hell of a play, man. Hell of a read, just getting off the ball, didn't bite for the fake at all, obviously with the boots and everything. When he made the tackle, I didn't know if he threw the ball [or] if it was a PBU or whatever. But I mean, I was going straight to that ball. When I picked it up, all I thought in my head was like, I gotta go because if I don't go, this man Justin [Fields] is going to catch me.
"It's so funny on the play, man. You can see, if it was 10 more yards to go, he might've got me."
But Cooper's old college teammate didn't. So the Bears, not the Broncos, are the team that fell to 0–4. And hope's still flickering in Denver that the grind Payton put his players through over the spring and summer might, finally, pay dividends.
"It's all about toughness. Football is football, and it's a tough sport," Cooper says. "And when you have those tough training camps and OTAs, obviously the work hours are long. But they're necessary, so that you can go out there and finish the game like we did. That's a fight to come back and win. You revert back to your training always whenever you find yourself in those situations.
"So I felt like everything was necessary. I feel like it's all starting to come together for us."
At 1–3, Cooper and the Broncos kind of have to believe it. Especially with two dates with the Chiefs scheduled over the next four weeks.
---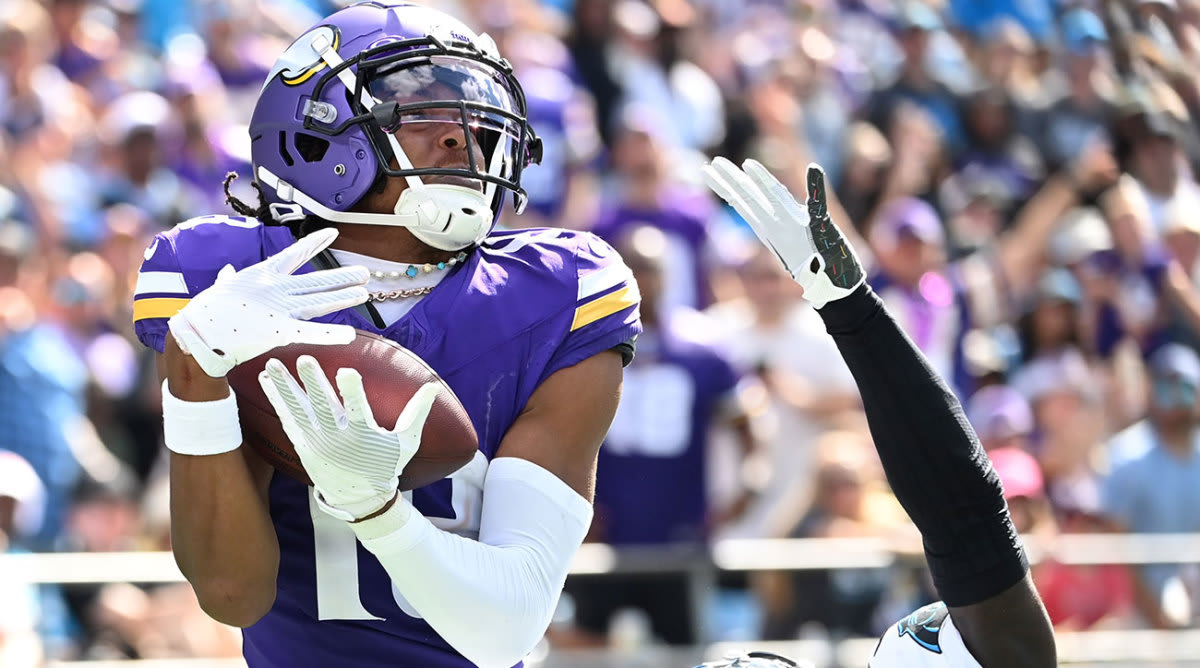 The Vikings' journey to 0–3 was a little different than the Broncos', but Minnesota faced a similar reckoning Sunday. And Kevin O'Connell's group passed, too, just like the coach knew it could—with that faith in vivid display when things were at their bleakest.
After going 11–0 in one-score games during last year's magic carpet ride to the NFC North title, all three of the Vikings' losses in September came by such margins, and Week 4 wasn't exactly off to the hottest start either. Minnesota drove 70 yards to the Panthers' 5 to open Sunday's game, had a touchdown nullified by a holding call, then endured a 99-yard pick-six from Carolina safety Sam Franklin Jr. Which was followed up by a Viking three-and-out, a long Panther drive (covering 61 yards on 15 plays) and a field goal to make it 10–0.
"At that moment," O'Connell told me from the tarmac in Charlotte, "I just felt our team continue to stay true to trying to make the next play our best play of the day."
Almost right away, he'd put his players in position to do just that, extending a drive that could have been another three-and-out by rolling the dice and going for it on fourth-and-2 from his own 44. "I just felt like it was kind of a time in the game and really in our season where we needed to go get that first down," he explains.
And O'Connell did that by leaning on the usual suspects, with Kirk Cousins hitting Justin Jefferson underneath for five yards to move the chains and pay off the coach's bet. Six plays later, on a third-and-1 from the 4, Cousins rolled right, escaped the rush and threw across his body to Jefferson for a touchdown to get the Vikings on the board. The two would connect again in the third quarter for a 30-yard score, with the two touchdowns sandwiching a TD that was generated by a Harrison Smith strip sack (D.J. Wonnum picked the ball up and ran it 51 yards for the touchdown).
All of which exemplified how, even as they turn over the roster, O'Connell and GM Kwesi Adofo-Mensah have a steady group of vets to carry them through—whether that's carrying them through a rebuild, or a rough patch in the season.
"They just made it about trying to have the best week of prep and then just went and played today," O'Connell says. "I don't think it's a shock at all that Harrison Smith had an unbelievable performance when we absolutely had to have it. He made some huge, huge plays, ton of tackles, three sacks, forced fumble. He was all over the place. I don't expect anything else from Harrison. He's one of those guys, with Brian O'Neill, C.J. Ham, Kirk Cousins, guys that were part of that group that I talked about a year ago. Ultimately those are the guys that we rely on.
"And now we've got some ascending leaders as well, with Justin being one of those. We've got all kinds of guys throughout this roster that they're wired the right way. They're going to just keep making it about work. Everybody knows there's a bunch of good football left out in front of us."
But after a soul-crushing couple weeks, that did have to start somewhere.
---
To Matthew Stafford, Sunday was a good test of where his Rams are. It's no secret that the 35-year-old has a very different team around him in 2023, as Los Angeles shoulders $75 million in dead-cap charges and works to reset its finances for '24. And that meant, even with three games down, going into Indianapolis in Week 4 without a real idea for how his teammates would handle the challenging circumstance that arose.
That circumstance: The Rams ran off a 23–0 lead, then proceeded to leave the door open and let the Colts back into the game. Anthony Richardson and the Colts responded with 23 straight points, with a throw to Andrew Ogletree (and another to Michael Pittman Jr. to pick up the two-point conversion) capping a 13-play, 83-yard drive that tied it at 23.
So Stafford would survey the Rams' reworked roster before overtime, on the sideline. What he saw was, well, familiar.
"Just no flinch," Stafford said of his teammates as he left Lucas Oil Stadium. "The second half didn't go the way we wanted it to go. We played really well in the first half and then had some unfortunate mistakes in the second half—penalties, turnovers, all that kind of stuff. You got to give the Colts credit. They took advantage of those opportunities and got back into the game, obviously tied it up late. We had chances in two minute and didn't get it done. Our defense went out and got a stop which was awesome.
"Once we got the ball in overtime, it was, Let's go get this thing done right now."
And to get it done, Stafford turned again to one of those new faces—wildly productive receiver Puka Nacua. The rookie out of BYU's four-game start to his career has been historic. His 39 catches are nine more than any other player has ever had through four games.
What he hadn't been asked to do, until Sunday, was win a game for his team, something Stafford figured he could do, given the similarities he sees between Nacua and rehabbing teammate Cooper Kupp, but had to see for himself to know.
"Yeah, I think [they're both] just big, physical, friendly targets for the quarterback," Stafford says. "He does a great job after the catch, similar to what Cooper does. Both of those guys are just really physical players at the receiver position. For every catch and run he's got, there's three or four blocks on tape where he's wiping a nickel off the screen and our guys are running off of that. It's a total package player and it's fun to be working with him."
Which is why Stafford was good with going to Nacua both to start overtime (with a deep cross covering 20 yards), and finish it.
On the latter, a third-and-4 from the Colts' 22, Stafford hit his back foot on his drop, patted the ball once and found a wide-open Nacua down the seam. The receiver then sliced through the back end of Indy's defense to find paydirt and put the hosts away.
"I think they blew a little bit of a coverage," Stafford says. "I wasn't trusting that there wasn't somebody underneath that, so I threw that a little bit higher. It was an in-stride ball."
And with that, the Rams made it to the quarter pole at 2–2 and very much in the NFC playoff race. So much for the idea that they'd be tanking for that quarterback across town. That idea was never going to fly as long as guys such as Stafford, Kupp and Aaron Donald were around.
"There definitely is a lot of pride for guys that have been here for a while," Stafford says. "I'm not into evaluating it before it's all done. I think the biggest thing for me is I'm enjoying the hell out of having the opportunity to go out there and compete. I feel like we're getting that from everybody.
"Last week, we didn't play like we wanted to, but I'm just enjoying the opportunity to go out to compete, every single play, every game, every practice. This is a fun team to be a part of because guys are enjoying that opportunity. I'm trying to do the same."
And how Sunday ended helps.
---
While we're on quarterbacks with new surroundings, this was about when the rebuilding Titans were supposed to be peddling Ryan Tannehill in a trade. And yet … they find themselves back in contention, again, in the AFC South.
Which doesn't sound like a huge deal, until you consider how exactly they got there Sunday, and that was with a convincing 27–3 beatdown of the struggling Bengals.
And maybe what's most interesting about it to me is who was around Tannehill for it. Nick Westbrook-Ikhine led the team with five catches. DeAndre Hopkins was right behind him with four. Chigoziem Okonkwo caught three. So it really was a collection of guys developed up through the system quietly, and the newcomer Hopkins, which certainly gives the strong, efficient day Tannehill had some color.
It also, given the opponent, shows you a little something about the Titans' program in Year 6 under Mike Vrabel.
"No doubt," Tannehill says. "We were moving some pieces around. We weren't trailing this week. That led to some other guys getting more playing time and moving them around a little bit more. We got a guy like Chris Moore, who's made some huge plays for us early in the season, plays down the field. He's a veteran player. He's played a lot, and he's coming up big for us. Thankful for him and the way he's been a pro and the way he's been able to slide in there and move around to different positions. I think Westbrook, kind of the same thing. Been here for several years now, but just a guy who's so consistent week in and week out. He knows everything, so you're able to move him around. Then you add in Hop."
And, of course, then you have the old mainstay Derrick Henry, who is in his eighth season (which is a lot for a running back) and still the centerpiece of the offense—he had 122 yards rushing Sunday, and a touchdown run and throw.
"He's built different," Tannehill says. "He's not built like a lot of other guys. You can see that when you look at him. It's been big for us over the past several years to get him going, and today was no different. He made some big plays. That touchdown run was awesome … bouncing off of tacklers inside the box and then bouncing it to the outside, having the speed to go score. It's always fun to watching him get on the edge and make a huge play."
Tannehill then joked that Henry is "efficient" as a passer, given that Sunday's touchdown throw to Josh Whyle was his third career touchdown pass—which have come in six career throws. (He has a fourth passing TD in a playoff game.) "He probably has a perfect rating over the course of his career."
He doesn't. But he still does plenty for the Titans. And even at his advanced age and, like Tannehill, even with the parts around him reshuffled.
The good news is, through four games the Titans have been able to keep their heads above water with all the changes. The better news, as they see it, could be where they can go from here, with a team they believe is back on the rise.
"It's been up and down a couple times so far this season, but we really want to start being consistent week in and week out, and building on some great things we did today," Tannehill says. "Proud of our guys, especially up front, the way that they battled. We're able to be efficient in the run game, create some holes for the backs, finish runs, push, be physical, play the brand of football that we want to play. Now it's a matter of building on it."
Next Sunday in Indy would be a good place to start.
---
The Dolphins-Bills games told us plenty. We've got more coming on Buffalo in The MMQB Lead, but I'd be remiss if I didn't give the Bills' effort its proper due here. That was the biggest Bills-Dolphins game, at least in the regular season, since the quarterbacks were Jim Kelly and Dan Marino, and the home team 100% answered the bell.
So then the follow-up question is whether the Bills exposed something we missed in the Dolphins earlier in the year. I'd say the answer to that is … maybe.
One reason the Dolphins were so dominant through three weeks was because of how ruthlessly consistent they were in staying on schedule. In the Denver rout, Miami didn't face a third-and-more-than-4 until its seventh touchdown drive, and wasn't in third down, period, until the second quarter. That, of course, is perfect for an offensive scheme that is so masterly at marrying the run and pass.
It doesn't work to the same level when you're in an obvious passing situation, and the Dolphins found themselves in plenty of those in Orchard Park. As such, they converted just 3-of-10 third downs against a swarming Bills defense.
This, by the way, is no indictment on what the Dolphins' offense has become, which is still the NFL's most explosive, efficient and exciting unit. But it is something to look for as the team moves forward.
---
That, while we're there, would count as a champagne problem for the other teams in the AFC East. And weird as it sounds, the Patriots are now, officially, one of those also-rans.
That doesn't mean they can't make the playoffs. It does mean the ceiling is lower in Foxborough.
This, by the way, while highlighted by the team's 38–3 blowout loss in Dallas, isn't new.
It was three years ago that Tom Brady bolted for Tampa Bay. The Patriots are 26–28 since, 26–29 if you count the playoffs. And if you talk to enough folks around the league, there's a pretty simple reason for that: "The talent there is average."
Mac Jones was pretty bad against the Cowboys, but, really, he hasn't been the problem, so much as the problem's been around him. First-round misses on Isaiah Wynn and N'Keal Harry years ago have continued to hamper a skill-position group that needs a No. 1 and a line that needs anchors. And even if Bill O'Brien's brought in a better scheme (and he has), this is Jones's third coordinator in as many years as a pro.
Meanwhile, the defense might've lost its two best players Sunday, with rookie corner Christian Gonzalez and fierce edge-rusher Matthew Judon now both hurt.
Which is to say, somehow, the Patriots may have come out of Sunday in the worst shape of any team in the AFC East, even compared to the Jets (who actually looked pretty good against the Chiefs!).