With three weeks in the books, a lot of people seem worried that the sky is falling. Are they justified in their thinking? Let's get to this week's mailbag …
From Jake Hayden (@Jake__Hayden): Would Denver be better off tearing it down and starting over completely? Would Sean Payton's ego allow for that?
Jake, I think it's fair to look at big-picture stuff with the Broncos at this point. They play the Bears and Jets the next two weeks. If they're not at least 1–4, then we're talking about this being a bad team, with the Chiefs, Packers and Chiefs again on the schedule for the rest of October, and the trade deadline Oct. 31.
So I don't think it's overstating it to say the next two weeks could—and maybe should—chart the course for Payton and GM George Paton in what they do with their roster.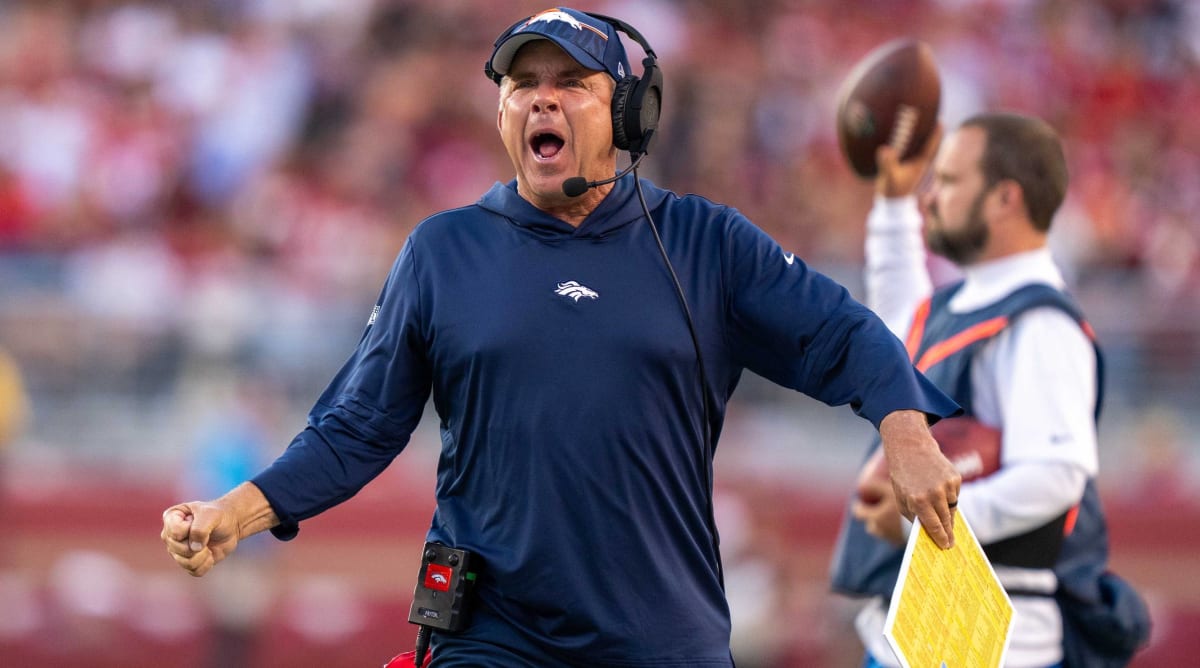 If this team is 0–5, it'd make sense to explore what you might be able to get for Jerry Jeudy, Courtland Sutton, Garett Bolles, Randy Gregory or even Justin Simmons (Patrick Surtain II, for me, would probably be the one untouchable). And the reason why it'd make sense is because then, as I see it, you may be looking at a longer rebuild, and one that those five guys might not want to be a part of a couple of years from now.
Remember, the Broncos were depleted of draft picks the past two years as a result of the Russell Wilson trade, which has made it more difficult to build depth. So if Payton comes to the determination that the core of the 2023 team isn't going to grow into one consistently capable of contending in a division that has Patrick Mahomes and Justin Herbert, then it makes sense to consider which pieces of the core might be assets to construct a new, sturdier, more capable core.
So a big couple of weeks ahead for the Broncos.
---
From mo_0 (@lumo_0): How does Vance Joseph still have a job in Denver?
Mo, obviously it hasn't been good. There's no putting lipstick on the pig. The Broncos are last in total defense, yards allowed per play, run defense and yards allowed per pass play. They're 31st in yards allowed per rush attempt, 29th in pass defense, 31st in third-down defense and 27th in sack percentage. They're a little better on third down, ranking 21st, and you might think that's a silver lining, until you realize that, on Sunday, Denver didn't even force a third down until midway through the third quarter.
O.K., so that's the baseline information.
Now, we can look at Joseph's history. He had the 12th- and 11th-ranked defenses in the NFL in Arizona in 2020 and '21, before the unit's age and talent deficit caught up with it last year. He had top-five defenses in his two years as Denver's head coach. So it's not like the guy doesn't have a good history in building and running a defense.
So I'd say this is another area where, if you're George Paton, you gotta judge whether the talent is as good as you might've thought it was a couple of months ago. The Broncos offloaded Von Miller and Bradley Chubb over the past couple of years, and that leaves Surtain and Simmons as the only guys with a long track record of high-end play. Which makes it fair to ask how far the players on hand are capable of taking what Joseph is giving them.
---
From Ryan Cox (@MrRyanCox): What's your approach to the GM and coach if you're Kevin Warren? How patient are you?

Ryan, similar to what I just said about the Broncos, the Bears are facing a critical stretch.
After the situation with defensive coordinator Alan Williams, and the Justin Fields–Luke Getsy thing, and based on where the Bears under Matt Eberflus, going into Kansas City and keeping it close was always going to be a tall order. So I hesitate to kill the Bears for that.
But over a five-day stretch coming up, they'll play the Broncos and Commanders, teams they should be able to run with, even if Washington's defensive line will be a bit of a matchup issue. So, now, we'll see where the program that Eberflus and GM Ryan Poles have built is and whether the players are still locked in. Can they show flashes like we saw last year—when it looked like the Bears might have something—before their depth caught up with them?
Bottom line: We should know more nine days from now.
---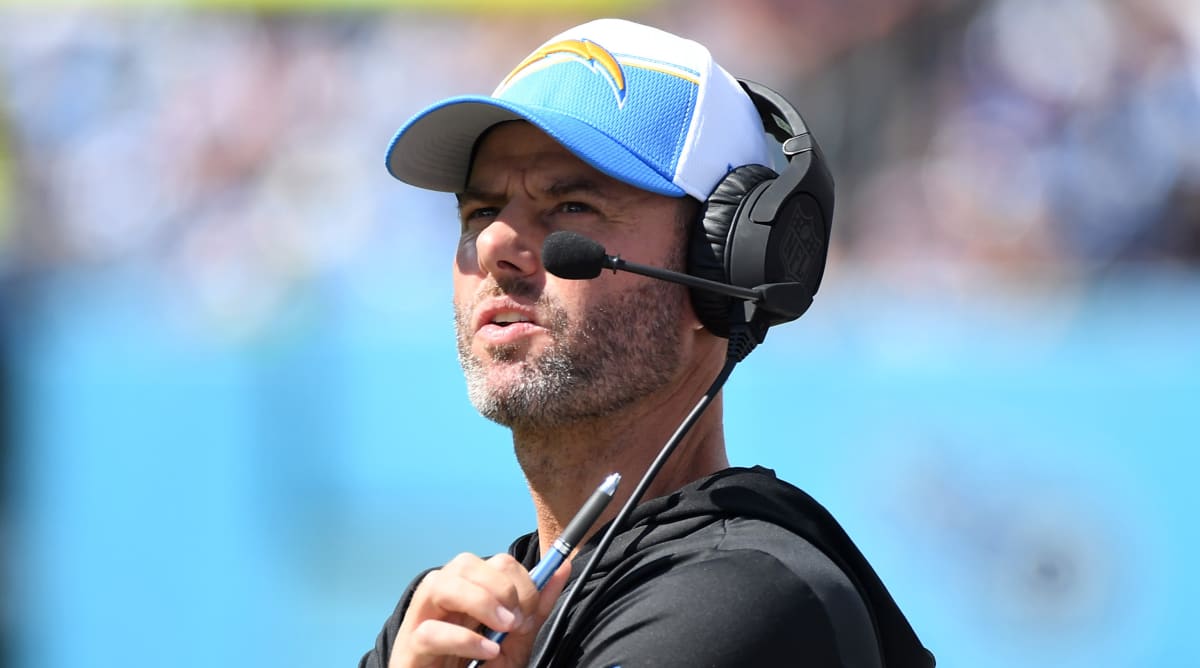 From NMH (@nosmhsnow): How much longer will Brandon Staley be employed? And who do you think would be the best candidates to replace him next year?
NMH, I think the Chargers showed a lot of mental toughness Sunday. They blew a 21–10 lead in the second half, and the offense responded with a seven-play, 75-yard touchdown drive. The defense got a fourth-and-goal stop at the 2-yard line with 2:57 left, then went back out on a short field, after Staley decided to go for it on fourth down from the Chargers' 24, and forced a turnover with 12 seconds left to go to close out the Vikings.
And they did it desperately needing a win—at 0–2—facing another team that was in the same spot, trying to scratch out its first win after making the playoffs last year.
If the Chargers beat the Raiders this week, they're 2–2 going into their bye week with a shot to reset and go forward. Now, they'll need to adjust, of course, with Mike Williams out for the year (and we'll see where Derwin James is physically this week). But the talent is there for Staley's group to go on a run, so I don't think the time is now to talk about job security.
---
From Donnie (@Scott1456699540): Is the defense for Cincinnati good enough to carry them until the offense and Joe Burrow figure it out?
Donnie, the defense looked really good in taking apart the Rams on Monday—and in particular a front fueled by the relentlessness of Trey Hendrickson. When the Bengals get good play on the back end, yes, they're plenty good enough to ride the run game and defense to wins, which, in turn, protects the ultracompetitive Burrow from himself.
Obviously, if the Bengals are going to be Super Bowl contenders, then they'll need Burrow, Ja'Marr Chase and Tee Higgins firing on all cylinders. And they'll also need to lighten the load for their hobbled quarterback.
---
From Dont Hutchison (@theMalteseBurgr): Who's had the more disappointing start to the season? Vikings or Broncos?
Dont, it's definitely the Broncos.
The Vikings weren't shy about their plan this offseason. They did a lot of contract reshuffling as the team set out to reset itself and create a clean slate cap- and draft-pick-wise for 2024 and beyond. As such, the team wound up, after discussing options with their veterans, offloading Dalvin Cook, Patrick Peterson, Eric Kendricks and Adam Thielen, reworking Harrison Smith's deal, and giving Danielle Hunter a raise.
Remember, Minnesota was 11–0 in one-score games in getting to 13–4 last year. It was clutch, but you also have to have some luck to get there, and that's proving itself out this year. It's 0–3—with all three losses by a single score. So there's some market correction here and some roster transition, and through it all I'd still feel really good about where the Vikings are under coach Kevin O'Connell and GM Kwesi Adofo-Mensah.
The Broncos are different. The Sean Payton–Broncos union happened, in part, because Denver's ownership felt like the roster was close, and needed a guy who could effect immediate change. Now three weeks in, you have two blown fourth-quarter leads, a historic defensive collapse and an 0–3 mark going in to October.
That brings the team to a critical two-game stretch that could determine how the team handles the trade deadline, which could then affect its approach next offseason. It's critical, in large part, because if you can't beat the Bears and/or Jets, a reassessment might be in order.
That leaves the Broncos with more uncertainty, more questions and less of a way out than the Vikings. So Denver, clearly, is having the more disappointing start.
---
From Sam (@sbhokie84): Have you talked to Brady Quinn yet?
Sam, I have not. Will give him his space. And talk to him Thursday morning. Tune in!
---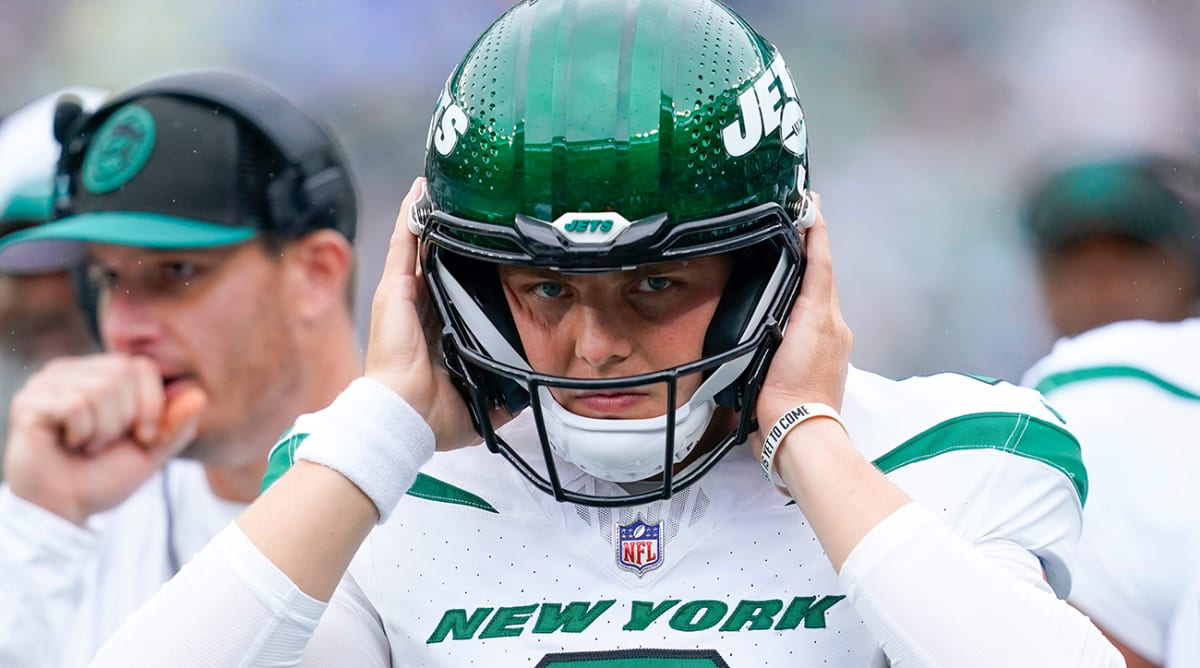 From lanchester royal (@LanchesterRoyal): Disaster brewing at Gang Green?
Lanchester, I'm hesitant to say that this early. But it is fair to say that this is a very, very challenging spot for coach Robert Saleh and GM Joe Douglas to manage.
On one hand, they should (and do) want to give Zach Wilson a run. His ceiling is the highest of any quarterback available to them. They still owe him guaranteed money for this year and next. They spent the second pick on him, and Aaron Rodgers wants to help him. And where exactly are they going to turn? Tim Boyle? Someone such as Carson Wentz or Nick Foles?
On the flip side, every loss makes the idea that Rodgers could return in January a little less relevant. And it's probably getting harder for the coaches to sell the idea that Wilson can keep the train on the tracks—or even close to the course it was on a month ago—to the locker room. Making that an even tougher sell is the history from last year when Garrett Wilson voiced his frustration with the direction of the offense, doing so on his way to Offensive Rookie of the Year honors. Do the players have any more to hang their hat on now?
Based on games against the Cowboys and Patriots, the answer to that is no.
So let's say you go ahead and sign Foles, and he starts a week from Sunday in Denver. The trouble, then, becomes that it's hard to project how good Foles will be since he was last on an NFL roster in May. And once you give up on Wilson again, it'd be very difficult, if not impossible, to reverse course again.
That's why I still think the best plan is to let the month play out and reassess after that. And the trade deadline approaching in late October could create a few more options than the Jets have right now. The Jets have the Chiefs, Broncos, Eagles and Giants between now and Halloween, and their bye is shoehorned in there Oct. 2, and so they should have ample opportunity to change their course if Wilson doesn't turn it around soon.
---
From Herbie Boylan (@BoylanHerbie): Does Washington still believe Sam Howell is the future, and what are the chances they re-sign Chase Young? Thank you.
No, thank you, Herbie—your enthusiasm is impressive, for sure.
I don't think they've made any decision about the next five years at quarterback or anything like that. As we've said, they really felt like, coming out of 2022, Howell had a shot to be a whole lot more than a Day 3 pick who aspires to be a career backup. And that was based on working with him for eight months.
Through three weeks of actual games, we've seen promise (in the comeback win in Denver) and the perils of playing a young quarterback (four picks against Buffalo). You can see the physical ability that prompted Ron Rivera, Martin Mayhew and Marty Hurney to hitch their 2023 wagon to the kid. You can also see where they'd need a lot more information to declare anything beyond this year about him. In other words, stay tuned.
As for Chase Young, my guess would be the Commanders sign Montez Sweat to a long-term deal, and the second pick in the 2020 draft becomes a '24 free agent. That's not because I think Young can't play. He has bounced back from the knee injury he suffered two years ago, regained his explosiveness and played really well so far. My reasoning in Young hitting the market? The team already has two big contracts tied to the defensive line (Daron Payne and Jonathan Allen), and will probably have to make a decision between Sweat and Young—and I'd guess Sweat would be easier to sign.
So Young, then, would be one of the prizes of March.
---
From Nick Fer1 (@NickFer1): When everyone said Jimmy G was a good fit with Josh McDaniels, was that said in regards to drafting high in 2024 and a chance to draft a franchise QB? Because that's the only good thing about it now. Six INTs in three games after hearing for six months how he knows the system is concerning.
Nick, I think Jimmy Garoppolo has been mostly fine for the Raiders, and I understand the numbers are not exactly great—five touchdowns, six interceptions, and an 81.4 passer rating through three games.
That said, the Raiders are last in the NFL in rushing, 30th in yards per rush and still don't have a rushing touchdown on the year. And the passing game—which lost Jakobi Meyers for a game, has struggled to find receiver depth and is still figuring out the tight end spot—hasn't been able to make defenses pay for the loaded boxes Las Vegas is seeing.
So the problem isn't just Garoppolo. But after missing a lot of offseason time coming back from foot surgery, he hasn't been able to solve the problems, either. So I'd give it some time before declaring the 31-year-old washed up.
---
From Leandro (@LeandroRaiders): How many more losses will be needed for Mark Davis to finally fire Josh McDaniels?
Leandro, I think it'd take a pretty serious collapse for owner Mark Davis to not stick with McDaniels and GM Dave Ziegler beyond this year. Again, we don't know what this will look like in November and December. And between the injuries, and the Chandler Jones situation, it's been a tumultuous start to the season.
I'd give it some time before saying anything definitive.
---
From Brad Koch (@bradkoch04): If the Browns finish the season with a top-three defense, what do you believe their ceiling is?
Brad, I hesitate to say they could win the division, because as good as the AFC North is top to bottom, my belief is that if the Bengals are at their best (and I think they inched closer to that Monday night), then they're clearly the cream of that crop.
That said, it wouldn't blow me away if the Browns won 10 or 11 games. Quietly, Deshaun Watson broke through against the Titans. It's because the coaches convinced him (using the phrase "completion-driven") last week that he had to more consistently take the layups afforded to him and be judicious on when he puts the playmaker cape on. Also, I think an offense that's been better tailored to him will get better, as all 11 guys in the huddle get used to playing in the adjusted scheme.
After that, you have on defense a lot of talent and you have the benefits of what I think was one of the most underrated moves of the offseason—the hire of Jim Schwartz as the team's defensive coordinator. The Browns have allowed only one touchdown on defense through three weeks. And while that's unsustainable over the long haul, you can see the group is playing fast and free and confident, and do I think that part of it sticks.
I'd be optimistic—if I were a Browns fan—that my team could well be competing with Ravens and Steelers for a playoff spot down the stretch.
---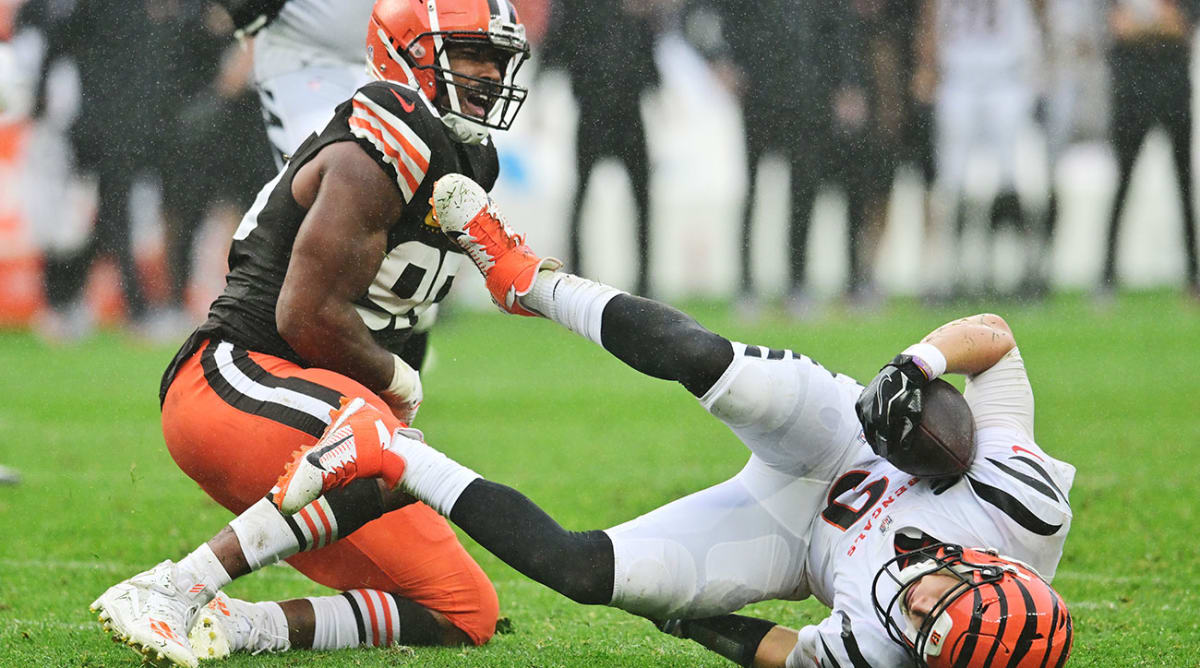 From JimT (@RealWGLB): If Myles Garrett keeps playing the way he has been, how long before he demands a new contract?
Well, Jim, he's signed through 2026, and his average per year of $25 million isn't all that outdated. While he's $9 million per year behind Nick Bosa—and obviously, that's glaring—it's not like there are a lot of guys ahead of him, or anyone that makes you go, THAT guy? Garrett's deal was done in '20, and Joey Bosa ($27 million per) passed him that summer. A year later, in September '21, T.J. Watt topped Bosa at $28 million per year, and the younger Bosa then flew past the pack a couple of weeks ago.
What might move the needle, and cause Garrett to ask for an adjustment, is how Chase Young, Danielle Hunter and Rashan Gary do in their negotiations. I'd say Gary's got a good shot to get into Garrett's neighborhood and maybe surpass him. If the other two do, too, that may be a sign that the contract of the Browns' star has been knocked down a tier, at which point Garrett could be prompted to ask for a raise.
Of course, no one should blame him if he does. He's a pretty unique player and athlete, and he's well within his rights to push to be paid as such, especially since there's no guarantee that the Browns will keep him at his current rate through his current contract—he'll be 31 when that deal expires.