As a trial balloon this week (not the Chinese spy variety), the Forde Minutes column is being subdivided for reading convenience. It won't be four quarters like the Forde-Yard Dash, since there are no quarters in men's basketball, but there will be two halves. Reader feedback on the new format is welcome.
Forty names, games, teams and minutiae making news in college basketball, where Zach Edey is not just the leading candidate for national Player of the Year, he's also a stand-up teammate:
When coaches become emperors
Of all the ridiculous things Jim Boeheim (1) said Saturday in an interview with ESPN's Pete Thamel, this was both the worst and the most accurate: "I know it's my choice. I can do whatever I want."
The Syracuse coach was talking about whether he will retire after this season. Boeheim is 78 years old and in his 47th year on the job, well past his prime while presiding over an increasingly irrelevant program, and yet—his words—he can do whatever he wants. The customary chain of command has long been broken at Syracuse, with chancellor Kent Syverud and athletic director John Wildhack more likely to fetch Boeheim coffee than give him a directive.
Boeheim's eternal loyalty to the school deservedly earned him commensurate loyalty in return, but at some point it stopped being a mutually beneficial relationship. At some point, he became as much an emperor as a coach, and from there, it's difficult to get him to give up the throne.
So now Syracuse is wedded to an old crank whose only noteworthy moments during this 14–10 season came when he was berating student reporters from the Daily Orange. Until Saturday, that is. That's when he decided to nuke three other Atlantic Coast Conference schools—two of them irresponsibly.
In the ESPN interview, Boeheim declared that college basketball is in an "awful place" regarding NIL and the transfer portal and asserted that "Pittsburgh (2) bought a team. … Wake Forest (3) bought a team. Miami (4) bought a team." Hours later, according to Thamel, Boeheim changed his tune, saying that he "absolutely misspoke" regarding Pitt and Wake Forest, and that the only school he had information about was Miami, which had a well-publicized agreement that helped land transfer guard Nijel Pack. Boeheim continued his damage control tour Monday morning with an apologetic statement that reads as if the ACC office might have expressed its displeasure.
As Nick Saban found out last spring, comments about schools buying a team are hard to walk back. Blowback came from Wake Forest coach Steve Forbes and elsewhere within the sport. Rutgers assistant coach Brandin Knight, who played and coached in the same league with Syracuse while at Pittsburgh (1999–2003 as a player, '08–16 as a coach), had some pointed comments on Twitter.
"This sounds like sour grapes," Knight tweeted. "Next time ask [Boeheim] how many teams he bought before NIL was legal. Don't throw stones in a glass house. Remember you've been coaching a lot of years and a lot of us know who got paid!!!!"
Funny, we all just assumed it was the beautiful winter weather that attracted all those great players to Syracuse over the years. Boeheim is the rare coach who has kept his job—and accrued even more power—through two different NCAA postseason bans for rules violations.
As for Boeheim's elusive retirement date, plenty of observers thought he might hang it up after last season, when his sons Buddy and Jimmy finished playing at the school. He kept going, and speculation heightened that this would be his final year. Now he says he "probably" will be back in 2023–24.
If "95%" of Syracuse fans want Boeheim to keep coaching, as he asserted, they certainly have lowered their expectations for the program. Barring a big February run, the Orange will enter the ACC tournament in need of winning it to make the NCAAs. (And Syracuse has never come close to winning the ACC tourney since joining the league in 2013–14.)
This would mark 'Cuse's first back-to-back NCAA misses since 2007–08. Their record in the past two seasons: 30–27, 16–17 in the ACC, with a Ken Pomeroy ranking of 69th last year and 85th so far this year. A program that had 17 straight 20-win seasons from '97–98 through '13–14 now hasn't had one since '19.
Should Boeheim ever actually retire, the emperor decreed last year that there is "a plan in place" for his successor. The likeliest candidate could be assistant coach Gerry McNamara (5), one of the heroes of the 2003 national title team. Or maybe assistant Adrian Autry. Or the school could bring back Boeheim's originally named successor, Mike Hopkins, who gave up waiting six years ago and went to Washington.
This is another area where schools run the risk of derailing successful programs due to the outsized influence of the departing emperor. The urge to "keep it in the family" can be powerful—and damaging.
At North Carolina (6), there are renewed questions about whether Hubert Davis (7) will follow Dean Smith and Roy Williams as a national championship coach. Does he have what it takes, or did he and the Tar Heels catch six weeks of late-season lightning in a bottle in roaring from the tourney bubble to the title game last year?
Before winning 11 out of 12, including two epic takedowns of Duke, Davis had an 18–8 record and a No. 49 Pomeroy ranking. Since that run, the numbers are remarkably similar with almost the same cast of players: The Heels are 15–8 with a No. 36 Pomeroy ranking.
The Carolina team that lost to Duke in Cameron Indoor Stadium on Saturday looked like the less inspiring version we've seen all this season. The Heels scored a season-low 57 points, tying their lowest total of the Davis Era, making just 39.5% of their two-point shots and 25.9% of their three-pointers. But Davis made his postgame emphasis the three free throws his team shot—tying the fewest in the ACC era, which dates to the mid-1950s.
"Going into the game we had shot 150 more free throws than any other opponent in our conference," Davis said. "We shot three, zero in the second half. That's what I'm looking at."
Carolina absolutely should have shot two more free throws: Pete Nance was hacked going up for a shot in the first half, and the officials somehow missed it. But beyond that, this was a very physical game in which the officials let the players play. Questioning the officiating (and there is no doubt that's what Davis was doing, although he denied it) was a deflection from the Heels' larger issues.
Maybe this team, with four returning starters from the national runner-up, is bored. Maybe it will find that extra gear again when it needs to and be a tournament force. But Carolina was considered an 8–9 seed in many mock brackets before the Duke loss; a tailspin now would push them into bubble territory. For a team that began the year No. 1, scrambling just to make the field would be a serious comeuppance.
At Duke (8), the internal handoff from Mike Krzyzewski to Jon Scheyer (9) looks better now than it did at any point in the previous three months. The 35-year-old Scheyer is now 1–0 against North Carolina after a stirring defensive performance gave the Blue Devils their first three-game ACC winning streak of the season. This Duke team is still coming together, blending freshmen and transfers, and could be a force by March.
"There's so much pressure for these guys," Scheyer said after the game. "Especially our guys who want to go pro. And whether it's this year, or in the future, there's a lot of expectations and pressure."
He was talking about the Duke players, but there is pressure on the Blue Devils' coach as well. Being the man who follows The Man is never an easy job, and Scheyer is extremely familiar with Coach K's shadow after playing and coaching in it for years. He will, and should, be given every chance to succeed, but living up to the standard set by the winningest coach in the men's game will be a constant challenge.
At Villanova (10), Jay Wright's surprising retirement sent the school to Fordham to grab one of Wright's former assistants, Kyle Neptune (11). Even though there was no obvious successor choice, 'Nova made Neptune one despite a 16–16 record in one season coaching the Rams. The results so far with the Wildcats have been sobering: Villanova is 10–13, seventh in the Big East, and addicted to losing close games (2–6 in those decided by five points or fewer).
For a program that was arguably the gold standard of the sport from 2016 to '22, this is a precipitous fall. Maybe Neptune can get it going again, but for the moment this looks like a school that believed hiring a Jay Wright Guy would automatically translate to Jay Wright Success.
What Louisville (12) did in hiring Kenny Payne (13) was not the same as the above scenarios. He wasn't a handpicked successor of the previous coach. But there was some similar reliance on hiring someone with program familiarity who would provide a warm nostalgia bath for fans and boosters. Like Davis and Scheyer, and whoever replaces Boeheim, Payne played at Louisville during some glory days.
Three months in, those family ties are the only thing Payne has going for him; the Cardinals are a disastrous 3–20, ranking among the very worst teams in the nation. And the schedule is tougher the rest of the way. Payne will probably get a second season in 2023–24, but there is no tangible enthusiasm for that among the downtrodden fan base.
No more one-loss teams
With the rather unsurprising loss by Purdue (14) at Indiana on Saturday, every Division I men's team now has at least two defeats. That's indicative of a season where dominance has been fleeting. The question is whether it offers us any clues about the giant NCAA tournament riddle to come.
With the Boilermakers going down Feb. 4, it marks the earliest disappearance of any one-loss teams since 2016, when SMU tapped out Feb. 1 (which is kind of wild to consider, with the Mustangs now two coaches removed from Larry Brown and struggling this season at 8–16). Here's the list of the last one-loss team in each of the last seven seasons, plus the date each eventual national champion suffered its second defeat.
2022
Auburn (15) had its second loss on Feb. 8, to Arkansas. The Tigers went on to finish the regular season 27–4, lost in the first round of the SEC tournament, got a No. 2 NCAA seed and lost in the second round to Miami.
Eventual national champ: Kansas had its second loss on Jan. 8, finished the regular season 25–6, then won nine straight in the postseason to take both the Big 12 and Big Dance tourney titles. The Jayhawks were a No. 1 NCAA seed.
2021
Gonzaga (16) never suffered a second loss. The Zags were 35–0 going into the national championship game, whereupon the end came in abrupt and ugly fashion.
Eventual national champ: Baylor didn't lose for the second time until March 12, in the semifinals of the Big 12 tournament. The Bears earned a No. 1 seed and stormed through the NCAAs, winning every game by at least nine points.
2020
San Diego State (17) was the last two-loss team, getting upset in the Mountain West tournament final by Utah State.
Eventual national champ: There was none, of course. Now let's never speak of it again.
2019
Houston (18) took its second loss on March 2, at home to UCF. The Cougars then lost in the final of the American Athletic Conference tournament to Cincinnati, got a No. 3 seed, and were defeated in the Sweet 16 by Kentucky.
Eventual national champ: Virginia lost for the second time on Feb. 9 at home to Duke and Zion Williamson (both the Cavaliers' losses up to that point were against the Blue Devils). Virginia didn't lose again until the ACC tourney semifinals. It then earned a No. 1 seed and won out in the Big Dance.
2018
Virginia (19) was upset at home on Feb. 10 in overtime by Virginia Tech. The Cavaliers then won eight straight, including the ACC tournament, earned a No. 1 seed and promptly suffered the worst loss in men's NCAA tourney history, to No. 16 UMBC.
Eventual national champ: Villanova was beaten Feb. 7 by St. John's at home, then lost twice more in February to end the regular season 27–4. From there the Wildcats won out, thrashing all comers in the Big Dance as a No. 1 seed.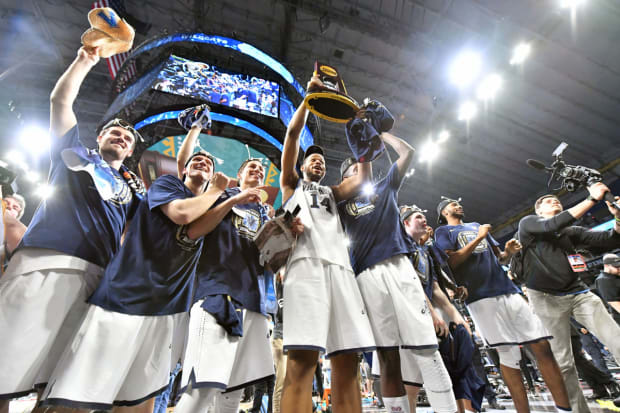 2017
Gonzaga didn't incur its second loss until the national championship game, and it didn't lose at all until Feb. 25. The Zags were a No. 1 seed.
Eventual national champ: North Carolina's second loss came early: Dec. 17, to be exact, against Kentucky in Las Vegas. The Tar Heels finished the regular season 26–6, lost in the semifinals of the ACC tourney, earned a No. 1 seed and won it all.
2016
As noted above, SMU (20) lost for the second time Feb. 1, at Houston. The Mustangs were banned from postseason play for NCAA violations (remember, that was a Larry Brown operation).
Eventual national champ: Villanova took its second loss on Dec. 19, at Virginia. It finished the regular season 27–4, lost the Big East tourney final to Seton Hall, got a No. 2 seed and won the title on Kris Jenkins's famed bomb to beat North Carolina.
Average second-loss date of last six national champions: Jan. 24.
Average number of losses for the eventual champ: 4.5.
Average NCAA tournament seed of the eventual champ: 1.2. The last five have all been No. 1 seeds.