Michigan State is expected to officially fire Mel Tucker for cause Wednesday. It follows a lengthy process in which Tucker was first suspended on Sept. 10 before the school announced its intent to fire him a week later.
Michigan State's status as a Big Ten program will always make it a desirable post. While surprises come in every coaching cycle, the Spartans job looks like it will be on the higher end of jobs to come open this fall. It's one of the only jobs this cycle that could end up paying a coach around $7.5 million per year or higher, which would place it around the top-20 paying jobs nationally.
So who might possible candidates be? Let's take a look.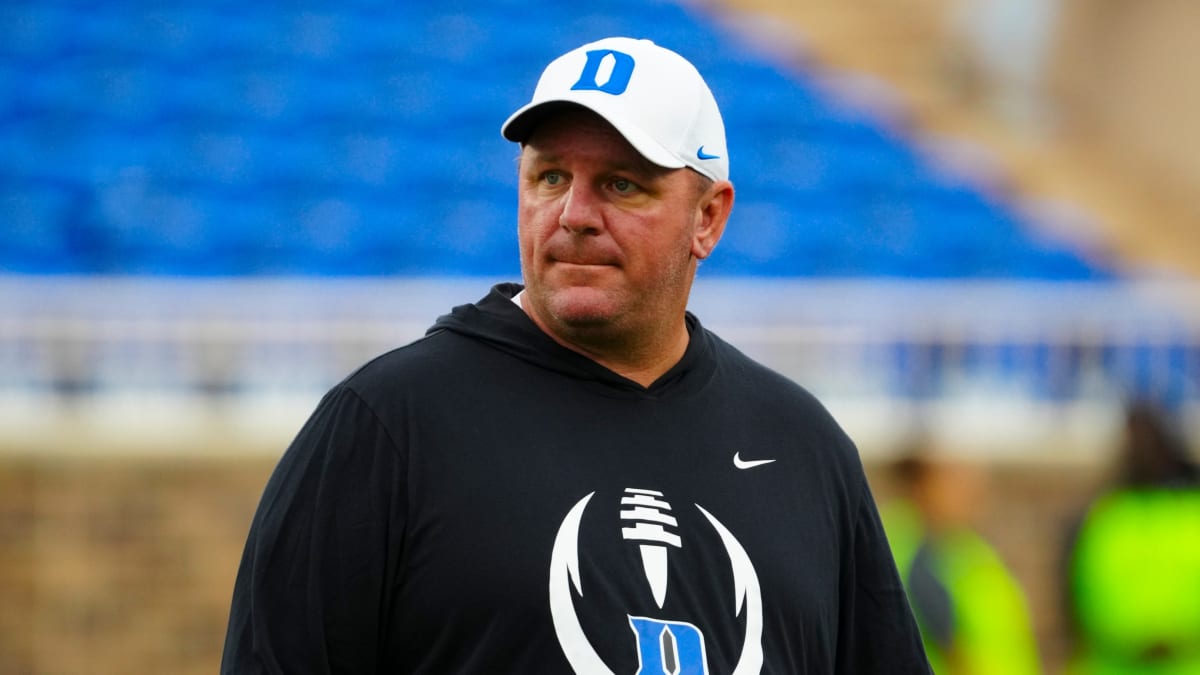 Mike Elko, Duke head coach
Elko's name is hot right now after Duke beat Clemson in Week 1. The Blue Devils will have a huge opportunity this week with College GameDay in town and a kickoff in a primetime window against Notre Dame. It's the start of a massive three game stretch, with North Carolina State next and Florida State on Oct. 21. Should Duke beat either or both of the Irish and Seminoles, Elko's name will shoot to the top of carousel target lists.
Mark Stoops, Kentucky head coach
Stoops has danced with a few schools in recent years and would certainly be a cultural fit in East Lansing, with deep ties to recruiting grounds in Ohio and his hard-nosed nature. But the Spartans would have to come to the table with quite a large chunk of change to pry him away from Lexington. He's currently in the $9 million salary range, and a raise of any significance would vault him past even Tucker's $9.5 million number and approach the top-five salary in the sport range.
The Kansas coaches: Lance Leipold (Kansas) and Chris Klieman (Kansas State)
Both are highly-regarded talent developers, and in Liepold's case, he has won at one of the hardest places to do so. Klienman followed a legend in Bill Snyder and the Wildcats haven't missed a beat.
Charles Huff, Marshall head coach
Huff has proved Marshall can slay some giants. The Herd beat Notre Dame on the road last season and Virginia Tech this season. The next step for the young coach to take things to another level is to solidify the team at or near the top of the Sun Belt.
Willie Fritz, Tulane head coach
Fritz finally broke through last year with a 12-win season after setting the most stable floor Tulane has had in school history. A second year at the top of the AAC, and Fritz may prove it's never too late to get your first big job.
Jason Candle, Toledo head coach
Candle has done well in maintaining Toledo as a perennial MAC contender (easier said than done in a league with as much parity as it has). He has won two conference titles and had three seasons with nine or more wins.
Coordinators to watch: Sherrone Moore, Michigan; Sean Lewis, Colorado; Brian Hartline, Ohio State; Matt House, LSU
Moore and Hartline should be familiar names to Michigan State fans as they have both been offensive coordinators at division rivals. Lewis took the unusual step of dropping down from being a head coach at Kent State in order to get on board the Deion Sanders train as offensive coordinator. Early returns have been quite promising, as the Buffaloes have started the season with an offense that looks explosive. But Lewis's head coach experience will be a key line on his résumé whenever he chooses to take a head job again.
House is a Spartans alum and an under-the-radar option Michigan State may consider if LSU's defense continues to impress.
Potential NFL candidates: Bill O'Brien, New England Patriots; Pat Shurmur, Colorado
O'Brien has bounced between college and the NFL, and if he were to bounce back, the Spartans could be a landing spot. Former NFL head coach Shurmur—who is currently an analyst at Colorado—is a similar type of candidate, and is also a Spartans alum.